Each new year brings new goals and new aspirations for our careers. It also brings new predictions about what trends the year will bring. One of the trends that never seem to fade away is a strong focus on soft skills. And this year is no exception due to a tight labor market where job seekers want to stand out in their job search.
Amid this tight labor market, soft skills will bring an increased level of value. Interpersonal communication, decision-making, time management and collaboration are particularly beneficial soft skills in the workforce for employees and job seekers alike, in which they can increase their value in the workforce. Soft skills make it easier to cultivate relationships, create trust and dependability, and lead teams. Showing employers that you have mastered the right soft skills shows that you can manage whatever they throw at you, even if it's a hard skill you haven't learned yet.
As a Career Leadership Coach, I think that soft skills can truly help set a candidate apart from the competition. Soft skills, which are also known as power skills, common skills, or core skills, are attributes that are applicable to all professions. These skills are often related to your ability to interact effectively with others. Demonstrating these in the hiring process can help a candidate, particularly when conveyed well in the interview process.
Soft skills can help make better managers and leaders and lead to happier and healthier workplaces.
So, what soft skills are important in 2023? Let's take a look!
GROWTH MINDSET
Possessing a growth mindset is something that truly can set a candidate apart from the competition because not everyone is conditioned for change or to try new things. Seeking growth requires the acceptance of challenges, setbacks, and failure. Also, it requires considering them as opportunities to learn, change, and grow. The openness to change, receiving constructive feedback, learning continuously, and being resilient are all strong parts of maintaining a growth mindset.
COMMUNICATION
It is critical that you can communicate your ideas, thoughts, and views clearly, concisely, and in a straightforward manner. However, this also is not an easy skill to master and not one that each candidate can say that they do well. But being able to share ideas quickly and effectively is more important than ever before. Business moves fast and being able to communicate powerfully and with speed is an essential skillset.
CRITICAL THINKING & PROBLEM SOLVING
Interviews typically assess critical thinking with diverse types of questions because this has become an important skill for employers. Critical thinking in the workplace guarantees objective, effective, and efficient problem-solving that reduces expensive, time-consuming errors while ensuring that organizational resources are utilized wisely. Team members who employ critical thinking skills can spot inconsistencies and errors, connect ideas, and make the best decisions possible. Critical thinking skills can mean sorting through arbitrary and useful details and developing a big-picture perspective that leads to an impactful solution.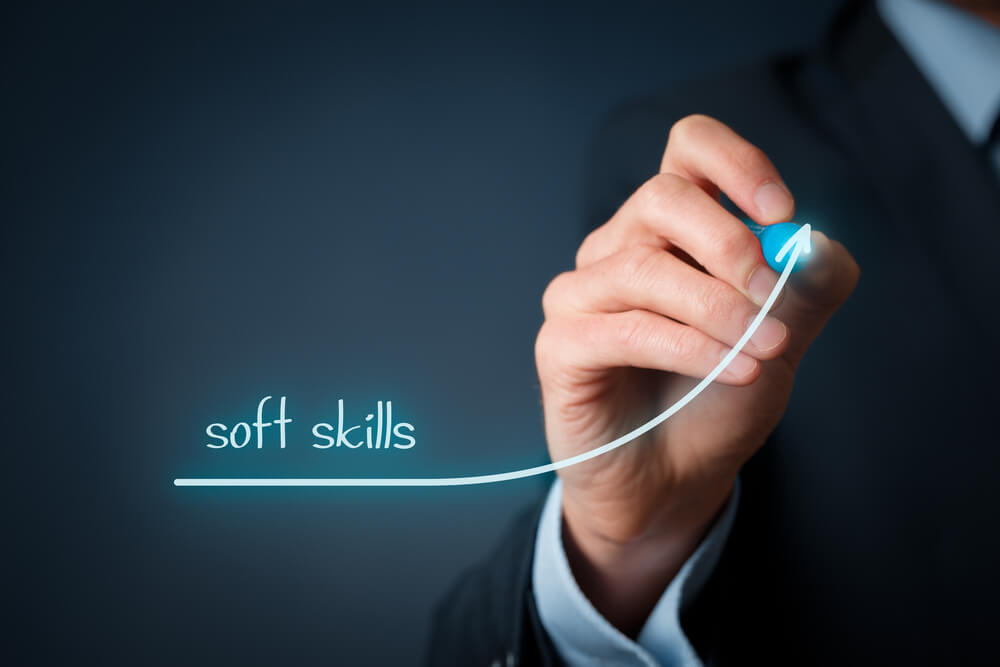 Amid this tight labor market,
soft skills will bring an increased level of value.
VALERIE MARTINELLI
EMOTIONAL INTELLIGENCE
Emotional Intelligence is not something that can be faked in a job interview or in the workplace. High performers tend to have a high EIQ, which includes empathy, self-awareness, and cooperativeness. In addition, those with a high EIQ are better at understanding people, which helps to make better decisions. The more you know about your team and your teammates, the better you can help them perform. This is also why individuals with a high EIQ tend to be leaders, not just managers.
CULTURAL AWARENESS
Current workplace trends require each of us- including job seekers- to be more culturally aware. Diversity, equity, and inclusion efforts are not beneficial unless we do our own part individually. Also, as the minority population continues to increase, so will the diversity of the nation's workforce. As the workforce continues to become more diverse, people who are accepting of and able to collaborate well with all people — regardless of their race, ethnicity, sexual orientation, and any other number of factors — will appeal more to the majority of employers.
ADAPTABILITY
Change is something that is consistent with each workplace, so adaptability is key. Adaptability can be necessary to be flexible and adjust to new working conditions and environments. In addition, it can also be required in instances when there are changes to a company's structure, business needs, work processes, and protocols. If someone isn't adaptable, then it may be difficult for them to navigate change or the type of environment where change is consistent. However, this is part of finding a role that is a good match because a high-growth organizational culture where change occurs regularly, may be a bit too much for some people.
LEADERSHIP
It is important to remember that you do not have to be a business leader to display leadership qualities. Leadership qualities are important to leading teams and navigating the current market conditions to deliver business growth. Leadership qualities require effective communication, motivation, delegation, trustworthiness, providing constructive feedback, being responsible, and taking initiative. A good leader can bring out the best in his/ her team members and motivate them to work together towards a shared goal. A good leader has the EIQ to help make better decisions and help teammates perform better and achieve better outcomes and shared goals for the organization.
Each of these soft skills are an important component to a company's success so it is vital for job seekers to convey them in order to stand out in a competitive marketplace. By doing so successfully, it can help to increase your value and achieve greater levels of career success.